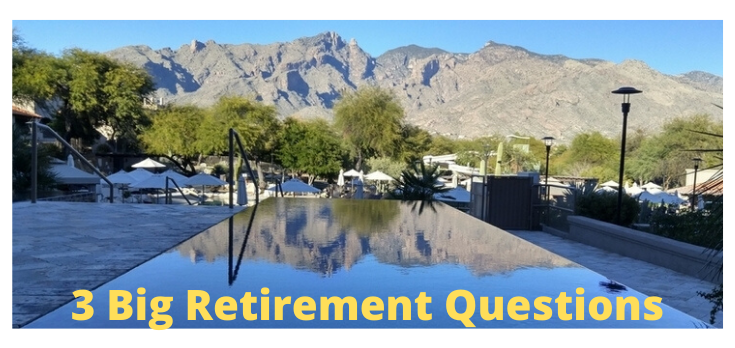 In February I was waiting at Newark Airport, snowed in with all flights delayed. We finally took off and arrived 3 hours late. I was tired all the next day, but I was happy because I was in my winter rental home in Florida, enjoying the sunny 80 degree weather. I'm loving my retirement!
How It Happened
I'm a systematic guy. A couple years ago I was going through my process to determine what was next for me and realized I could retire, so I did!
I've always had an idea of what I wanted my retirement to look like, including things like play, travel, and time with family and friends, especially two sons. I also have some health issues, so it's really important for me to manage my healthcare and well-being.
Because I'm a planner, I keep setting goals for what I want to be doing in retirement and then putting things in place to make them happen. It's been working great and I'm really happy with my retirement life.
A Tip
Here's a tip for making it happen:
The key is to get REALLY CLEAR about where you stand and what you want, and then to keep creating ways and opportunities to make it happen.
And speaking of having a plan and making things happen, here's another thing to keep in mind. You do not need a parachute to skydive. You only need a parachute to skydive twice. Hmmm… OK, on we go.
3 Big Questions
As I talked with others who have either retired or are planning to, I discovered they had some issues and concerns. I'm the type to want to help if I can and I was curious to learn more, so I surveyed people about their biggest concerns with retirement.
The results mostly fell into 3 big buckets:
Do I have enough money to retire comfortably (and how much do I really need)?
How do I balance my goals with my commitments?
How do I stay focused and structure my time for the things most important to me?
I realized I could help answer those questions using the process I went through that showed I could retire, how I get clear and keep clear about what I want, and how I stay on track.
A Way To Help
I don't even want to think about what it would be like if my retirement didn't look anything like I imagined. Watching time slip away, from 65, to 70, 75, maybe becoming less mobile, feeling like I'd wasted those years not living life the way I'd always imagined.
I don't want people to waste even a minute! What would it be worth to make the most of those all those years, or even 1 year?
Hearing the frustration of other retirees, I began feeling a growing desire to help.
Now I'm on the path of creating a place to help others as we explore retirement together. That's how http://ExploringRetirement.club came into being. I want to create it together as we explore what we want our retirement to be and make it happen.
What's Next?
The very first question people typically ask about retirement is, "Do I have enough money to retire comfortably?"
Here's a way to answer it: If you're feeling confusion and fear about retirement, this Free Report shows you how to create a better strategy to retire comfortably. Join the others who have used these same steps to get clarity and build a workable plan.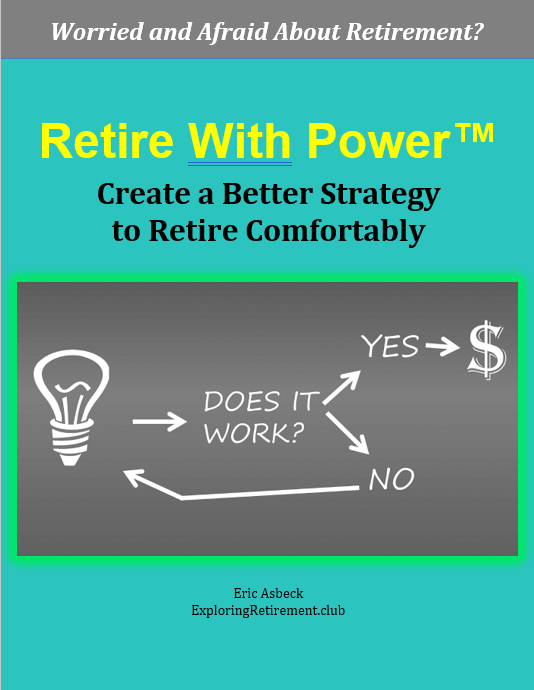 HIDDEN INCOME STREAMS
Do you have enough money for the lifestyle you want?
You Will Discover:
2 mindset hacks that create the money freedom to do what you want, when you want
Secrets used to create a multi-million dollar business
The hidden income stream many entrepreneurs overlook
After you've resolved that issue, the next step is to begin intentionally creating an amazing retirement.
Want to learn more? Go ExploringRetirement.club and start creating the retirement you've always imagined.
Stay tuned. I'll be sharing more about the ways to create a great retirement.
Make it happen!
Eric
Copyright © 2019 ExploringRetirement.club. All Rights Reserved.